Here is Mo Farah's weekly training plan for London: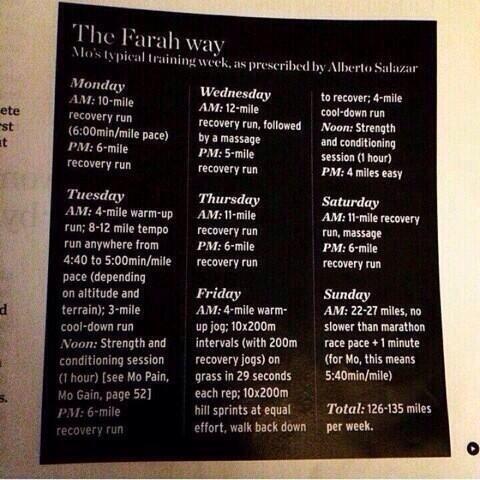 Once you get over the idea of a 10 mile 'recovery' run at 6:00/mile pace, what's really interesting about this is how little of his time is spent pushing speed. Out of ~130 miles a week (let's take the medians), only one ten mile run is at tempo pace, and one 24 miler is a bit slower than marathon pace. Ignoring the intervals, which I guess are more aimed at maintaining his track performance(?), the rest is easy running (at least, easy if you're Mo Farah), the challenge being that there's so much of it.
My running is going pretty well (if slower). For the past month I've done 3-4 times a week. Mileage is still low (11.3 this week), but that's ok because consistency is better, and I'll probably stick to the 10% rule now so it's going to be low for a while yet (so much for compound interest). My foot is still wavering somewhere between "ouch" and "almost better" but it always seems to feel better AFTER running so I'm not hugely concerned. I am finding that upward dog pose loosens it off.
Also, the weather is nice.